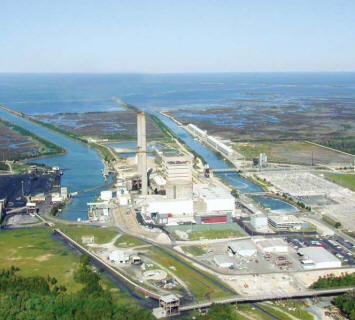 The Crystal River Energy Complex sits a few miles northwest of the town of Crystal River on the Gulf of Mexico coast where the nuclear reactor shares space with four coal-fired electrical generating plants. The facility is obvious from a distance with two tall chimneys for the four coal-fired generating units that generate 2,302 MW and the single-unit, 838-MW nuclear reactor with its signature cooling towers. Crystal River 3, the sole nuclear power plant on the site, was shut down in 2013.
No doubt because of the threat identified in GULF WINDS.
Photo on the right is the view from Ozella, Uly's house in Gulf Winds.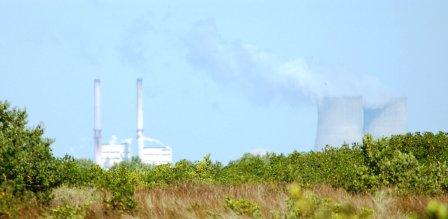 According to Progress Energy: "Nuclear power plants are among the most secure facilities in the world. In fact, the FBI considers nuclear power plants difficult targets to penetrate due to the combination of robust buildings that protect the reactor, the presence of highly trained, well armed security professionals on duty around the clock, and a multi-layered strategy to safely shut down reactors to protect public safety.
....In addition to being guarded 24 hours a day by well-trained security personnel, our nuclear plants have plans already prepared to defend the facilities from terrorists. These plans involve support from local, state and federal law enforcement. The NRC conducts security drills at all plants around the country on a regular basis, and all of the Progress Energy nuclear plants have performed very well on these security tests. We are in constant communication with the NRC and the national intelligence community for current information on security threats. In addition to our own security personnel, the U.S. military is on call to respond to protect nuclear power plants if necessary.
...Nuclear power plants store fuel on site, where trained workers seal the used fuel in massive, airtight steel or concrete-and-steel canisters that provide both structural strength and radiation shielding. All storage canisters—which can hold up to 68 12-foot-long used fuel assemblies—are naturally cooled (they involve no mechanical devices for cooling) and are built to withstand natural disasters such as tornadoes and earthquakes. They are placed upright on a three-foot-thick concrete pad or horizontally in a steel reinforced concrete vault."
Aerial photo and information are from the Progress Energy web site and brochures linked to the web site.
---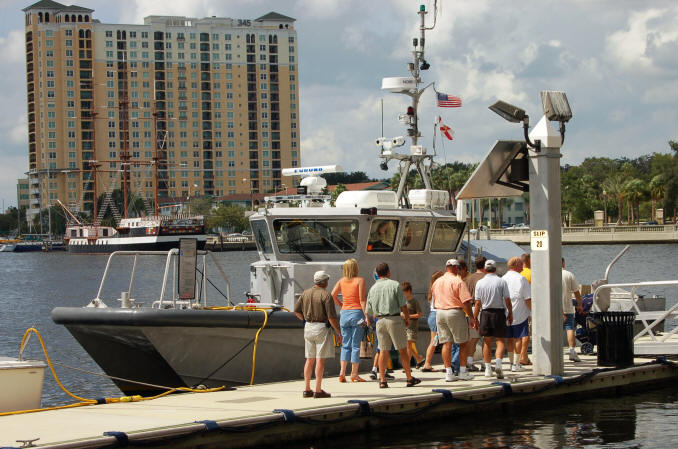 The USCG all aluminum patrol vessel GUARDIAN is based at Crystal River. the forty-five foot jet drive catamaran rides across the water at a maximum speed exceeding forty knots, powered by two 440 hp diesel engines. With a crew of three, the Guardian patrols the waters surrounding the Crystal River Energy Complex.
The photos were taken during a Tampa boat show, with the Jose Gasparilla, the flag ship of the mythical legendary pirate Jose Gaspar used in Tampa's annual Gasparilla Festival in the background.