First sold along the roadside for around twenty-five dollars each, pieces created by the original
Highwaymen
are now valued in the thousands. A few of the surviving artists continue to paint and sell their work, now recognized for their striking beauty.
Robert Butler
, an original Highwayman, maintains the tradition and was recently featured in a local newspaper
article
.
Researching Highwaymen art, I discovered and purchased this original oils on canvas painted by BL (Bonnie) Butler, very reminiscent of the original Highway men style. Her art has not yet reached the prices of the original Highwaymen, but matches their beauty and representation of wild Florida at its best.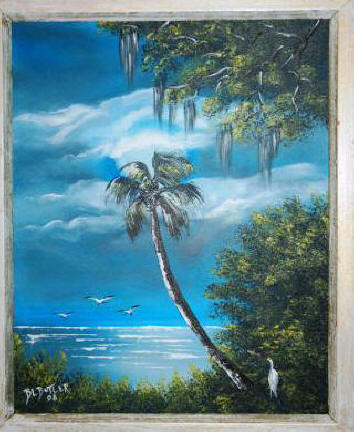 Bonnie said: "I have had the great opportunity to be mentored by the past six years by Highwayman RL Lewis. Mr. Lewis has been a great inspiration to me to develop my own style of art..."
Bonnie also credits her mother and grandmother for their inspiration.