Phan Thiet airfield was hot and dusty, perched on the edge of a high bluff overlooking the beautiful South China sea.
Click HERE for her fan site.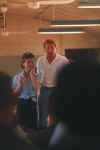 Vikki Carr and Danny Kaye performing for members of the 1st Brigade, 101st Abn Div, in an impromptu show beside the airstrip at Phan Thiet, South Vietnam.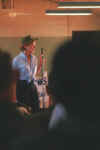 Vikki Carr sings for a small group of very appreciate fans in South Vietnam in 1965. Comment from Chuck Adkin: I was looking at more of your photos and remember Danny Kaye coming thru Phan Rang with his show. The female singer on your Phan Thiet photos page is Vikki Carr. I bought all her albums after I came home in 1967 for about the next 15 years.

A supporting aviation unit occupied the south end of the single runway. One night we heard the thump of the incoming mortar fire and a couple of explosions, but mostly clanks on our end. After sunrise, the tent area around the air crews' tents were littered with unexploded mortar rounds, safety pins still in place.

RF/PF weapons classes on the bluff overlooking the China Sea. The "Ruff/Puffs" were local Regional/Popular forces, along with the CIDG - Civilian Irregular Defense Force - all locals the Bde worked with in addition to the slightly more organized South Vietnamese Army units.


Elements of the 1st Brigade, 101st Airborne Division conducted Operation Austin II, a series of long range patrolling actions from the coastal town of Phan Thiet up into the mountains dividing the II and III Corps areas in the April, 1966 period. Dry and dusty, the command post was set up in the old air terminal at the north end of the runway.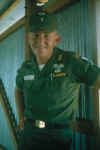 Renny Reeves in the billet area, an abandoned building (galvanized steel over beams on a concrete pad, with nice air gaps top and bottom for ventilation) - we were told it was planned as a "hospital."