Great Read and Surprisingly Believable November 2, 2014
By Whiskey Charley
Move over Forsyth, Follett, and Ludlum you have some competition. John Taylor has written a fast paced, interesting tale that is more than pertinent to today's world conflict. Set in Iraq and Syria Taylor writes of Sinjar Mountain, Iraq; Damascus, Syria; and other locales ripped out of today's headlines.
Taylor tells the story of Army Major Nash Devon, a Lumbee Indian from North Carolina. The story starts with a successful Scud missile destruction mission gone bad during Desert Storm, leaving Devon with searing memories that will impact his decisions nearly ten years later.
Having been rousted out of a booze-fueled tryst by Saudi Arabia's morals police, Devon is "offered" the opportunity to volunteer for a mission that should redeem his career and reputation, if he survives. Devon is quickly on his way to northern Iraq. Soon he finds himself as a, member of a United Nations team with a rather light cover as an agricultural specialist, a task for which he is distinctly unqualified. His true mission is, however, to find an undefined "something" in northern Iraq.
Linking up with the team Devon is introduced to his fellow team members. The team director is the quintessential bureaucrat, while two others are old friends of Devon. One man had accompanied him on the Scud raid during Desert Storm; the other is a Pakistani officer whom Devon had met in school in the States. He is also introduced to an "old hand" with the UN, Renee Granwin and a newcomer, Sara Qasim with her son Arif.
Taylor does an excellent job of developing these characters. None is a caricature, rather each is realistic and has an unexpected depth of character. Likewise, the dialogue is appropriate to the situation and has the ring of authenticity.
This is an adventure novel and the situations are designed to place the characters in extreme situations. Taylor's novel is no different. His situations have the tone of plausibility, if not probability. His plot twists are unexpected, though feasible, and somehow not surprising.
I truly enjoyed this read. John Taylor's writing honestly reminded me of the "Big Name" authors. Good characters. Good plot. Good writing. What more can a reader ask for? If you hankering to read a great story, I recommend you pick "Desert Winds." You won't be disappointed; I wasn't!

A Look Inside August 19, 2014
By Terry Simmons
This story was intense and put me in the picture in Kurdistan through the realities of a real soldier. Those days were very difficult for everyone who experienced the gritty ugliness of the war in Iraq. It was also beautifully sensitive and vividly descriptive piece of work. The Iraqi people came alive in this brave and honest narrative. We'll done Mr. Taylor!! The human spirit in extreme adversity is a beautiful thing to behold. I enjoyed this book!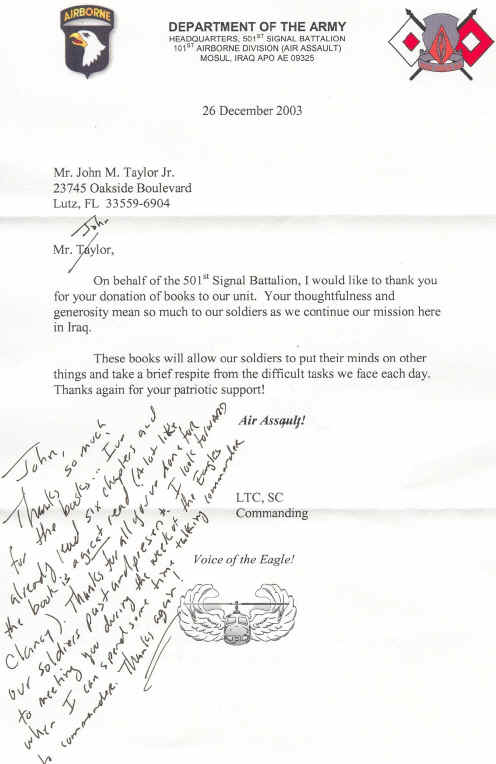 On the left is a review by a member of the 101st Airborne division (Air Assault) of which I am most proud. Ironically, Behind the Green Water was completed before our 2003 operations in Iraq. I certainly didn't expect to ever have a member of the 101st Airborne come up to me and tell me they had actually seen the monastery described in the novel, and compliment me on the accuracy of the settings and the culture. Glad I did it right - jmt

A new review from Down Under:
I loved the book, thank you for the opportunity to read it.
I now have a greater insight into what really happens behind the scenes.
I think in the end, once I found out what was behind the green water, I was worried that Nash and Granwin wouldn't keep what they had and Yakkin would be orphaned for a second time! I find myself thinking about them sometimes, wondering if it would all work out in then end for them and then I laugh to myself, knowing firstly that it would have been fine and secondly that I am even thinking about 3 people that do not really exist. Not many writers have the ability to pull your soul into their stories.
You have drawn from your own experiences and resources to write a story that was about the hardship and heartache that happens everyday.
The soldiers and civilian personnel are more human and real to me now instead of just being film footage on the news.

Review by Felicity Baker
All I can say is - ABSOLUTELY BRILLIANT!
A military story filled with corruption and espionage with a little bit of romance thrown in, taking you into dark places, showing you the true reality of the horrors of war.
Devon Nash, the likeable lead character who you are introduced to at the time of the first Gulf war is sent back to Iraq on a secret mission. His story unfolds with many twists and turns and brings the reader almost up to the second Gulf war. By the end of the book you will have a greater understanding of how tough it really is, without the media sensationalism.
J. M. Taylor takes you to the edge of your seat in this military thriller that will leave you begging for more!
J. M. Taylor has created what every author should, a world where the reader is enveloped within the pages, and he has left me with a sorrow and yearning when I got to the last page.
Reviewed by:
Felicity Baker ©
January 2005
Rolling Seas Reviews

Barbara Buhrer, MyShelf.Com (Click HERE for full review):
"...The author has presented a narrative which the reader can identify with present day events. The portrayal of the plight of the people and the appalling conditions in which they live is vivid. The barren stark land is made very real. The plot is filled with action, treachery, suspense and conspiracy. There is enough adventure and daring-do to satisfy the most demanding reader. Devon could join the ranks of Dirk Pitt and Indiana Jones."

John McBride, MagWeb.com
I polished this off in two nights' reading. Behind the Green Water takes you to the No Fly Zone in northern Iraq with a polyglot group of ex-military and civilians doing what they can to help feed the Kurds. Our hero, Nash Devon, gets shanghaied by US military intelligence as an agricultural advisor to the UN Commission for Refugees. He's supposed to be on a weapons inspection team but shadowy government spooks have other ideas for this Gulf War hero.
So off he goes to Iraq without any spy training or equipment, assisted by a Pakistani friend who is really working for a fanatic Islamic group. The Iraqis love to take potshots at UN workers. Landmines are everywhere. The French woman is a bitch (but you know she has a heart of gold and will eventually bed our hero). And that's only the start of Devon's problems.
Suffice it to say that in the tradition of Indiana Jones and Jack Ryan--a point the publisher emphasizes in PR copy--Devon gets in and out of scrapes, defies death, and you know, you just know, that he'll figure out what to do in the nick of time. Did I mention the icon of Christ?
Taylor pens lively prose and weaves a complex plot around the all-American hero. The pace is about right, and for the most part, the action believable. I had a little problem with the Chernobyl-ish nuclear problem, and its a shame the big bad Pakistani didn't plug the omnipresent adolescent Yakkin the way he did the mother, but you can't have everything. I rather enjoyed Khan the fanatic Pakistani--good, intelligent, and resourceful villains are hard to find and Taylor created a delicious baddie....

From Louise Crawford, award-wining author:
"J. M. Taylor's political thriller shows clear knowledge of Iraq and its neighbors, the danger and fear of living under constant threat of death, and what that does to a person, or a culture – a culture shown in vivid Technicolor through the eyes of the main character, U.S. soldier Nash Devon. Devon, sent into UN territory to discover and take out a nuclear missile site – if it's there – pretends to be a UN agricultural specialist as he searches throughout the war-torn region.
Accompanied by a Frenchwoman there to help the villagers, and an Arabic woman forced to play spy to save herself and her son from Hussein, Devon finds his emotions raw as he cares for the boy and realizes he is drawn to the Frenchwoman – despite her sarcasm and less than generous attitude toward him. From day one, when Devon is saved from a firing squad, to the end, he faces life and death drama, rescuing his co-workers, sometimes winning, sometimes losing and sometimes losing track of his goal. There is a strong undercurrent of religious beliefs, from Native American to Muslim to Christian in an interesting mix of characters who rise above the chaos surrounding them to a hopeful future. Taylor does a masterful job of dragging the reader into a world of extremes, through grassy fields laced with mines where a wandering goat or child is readily blown apart, into the rubble-strewn streets of Baghdad, and into villages where friend and foe are indistinguishable until guns are waving and bullets are blasting."