Special Atomic Demolition Munition (SADM)
US Army Sergeant Major (Retired) Joe Garner describes what was probably the first parachute jump with a W54 Special Atomic Demolition Munition (SADM) in 1960 as part of PROJECT GREENLIGHT in his autobiography - Code Name: Copperhead. SGM Garner, a Special Forces soldier with many years of combat experience, described his high altitude jump from a H-21 helicopter on the back side of Fort Bragg, also the fictional setting of the special munitions depot in Lost Key. Joe reported that he dropped faster than anticipated in his modified chute and ended up on the ground with all the laces busted out from his boots. What I called an "ass-buster" when I was jumping.
The SADM had a yield of 0.01 or 0.02-1 kiloton and was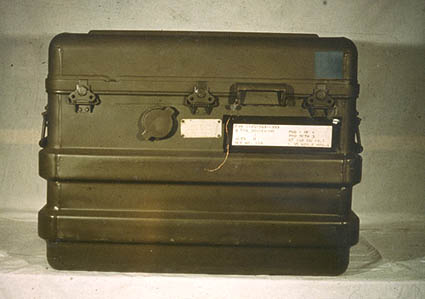 operationally deployed between 1964 and 1988. The entire unit weighed less than 163 pounds (74 kilograms). This is the same container that confronts Juahera Norha, the Syrian terrorist, and Harry Parker, ex-soldier and now DIA clerk, in Lost Key.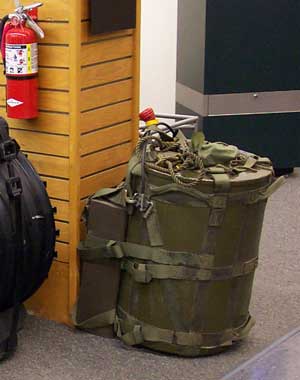 Open sources describe the Special Atomic Demolition Munition (SADM) as a United States Navy and Marines project that was demonstrated as feasible in the mid-to-late 1960s, but was never used. US Army Special Forces historians would probably take exception to the program description, at least up to, and fortunately not including, the "never used" part. The project, which involved a small nuclear weapon, was designed to allow one individual to parachute from any type of aircraft carrying the weapon package and place it in a harbor or other strategic location that could be accessed from the sea. Another parachutist without a weapon package would follow the first to provide support as needed.
In the Navy scenario, the two-man team would place the weapon package in the target location, set the timer, and swim out into the ocean where they would be retrieved by a submarine or other high-speed water craft. The parachute jumps and the retrieval procedures were practiced extensively.
Reportedly 300 SADMs were assembled and remained in the US arsenal until 1989.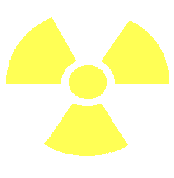 This is the radioactive symbol that Parker spotted on the case guarded by a pair of Spadefish in the hulk of a grenade-mangled Hatteras somewhere in the Florida Keys.